Protestors shut down Missouri state Senate to demand Medicaid expansion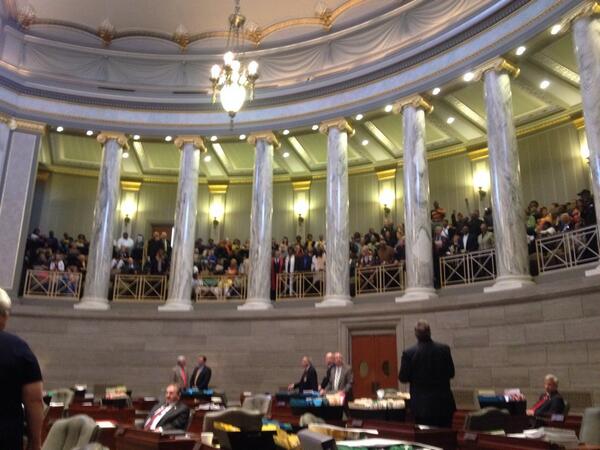 The Missouri state Senate was shut down temporarily Tuesday by a group of protesters demanding the state expand Medicaid under Obamacare.
Missouri is one of more than 20 states that has chosen not to expand low-income assistance to the poor under the program. Those opposed to expansion argue that while the federal government would pay for the vast majority of the expansion, there's no guarantee that Congress won't unwind that support in the future, leaving states to pick up the tab.
The state Senate shut down around 12:30 p.m. EST, according to the Springfield News-Leader, a local news organization. Progress Missouri, a progressive group linked to the protest, posted the audio embedded below which it says is a recording of the moment the Senate was shut down. About a minute and 30 seconds in, a legislator asks the Senate president to have the Senate stand in recess until the upper gallery of the chamber is cleared. The Senate president then declares the Senate "at ease."
The Springfield News-Leader's Jonathan Shorman reported that Capitol Police started removing protesters minutes after the protest began.
We assembled a collection of tweets below from Missouri legislators, journalists and, apparently, some protesters. We could not confirm the veracity of the images and videos that purportedly show the protests in action.
*Also see https://www.youtube.com/watch?v=QDhs8q2HAuY
See more here http://www.washingtonpost.com/blogs/govbeat/wp/2014/05/06/protestors-shut-down-missouri-state-senate-to-demand-medicaid-expansion/